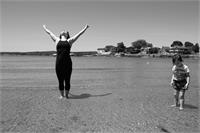 New Years is a great time to set yourself up with some healthy new habits. Yoga is a wonderful practice to connect yourself to your body and breath, building both strength and flexibility. This Saturday, join Sharon as she begins a 4 week series to introduce you to the basics of the yoga asana practice.
Four-week series:
Saturdays, January 5, 12, and 26; February 2
12:30pm – 1:45pm
Whether you are brand new to yoga or wanting to reconnect to the basic fundamentals of your practice, you are welcome to attend this Beginner Yoga Series. Vinyasa yoga unites the body and the breath through the creative linking of postures (asanas). With down-to-earth, clear instruction and explanation, you will learn several postures and breathing practices most commonly used in a vinyasa-style yoga class. This series is designed to guide you in feeling more comfortable in your own body and provide you with a foundation to build a sustainable, personal yoga practice.
Investment: $75 for 4 weeks; $20 Drop In Rate