Taking time off through New Years, I was looking forward to some planned 'down time.' Be careful what you wish for! 
I have been home with a bug since before the holiday. Generally, I am in very good health, but a lingering cold put a damper on my holiday plans and festivities. I sit at home today, enjoying a cup of hot tea, with honey, lemon and ginger. My Reiki Teacher, Hyakuten Sensei, a Buddhist monk from Kyoto Japan teaches that – "A cup of tea. A cup of enlightenment." Hopefully, along with enlightenment comes a cure for this cold!   😉
The message on my Yogi tea bag (each bad has a written positive saying or quote), gives me pause to reflect –  "An attitude of gratitude brings opportunities." 
'End of Year' Accounting. 2019 is nearly over and I find myself making time for a retrospective accounting of the year. Not the financial kind that the IRS is looking for, but the psycho-spiritual kind, making note of that which has fed my heart, nourished my spirit, and brought Joy.
New experiences and adventures, meeting new people, exploring various cultures, and learning … all bring me joy. They also bring opportunity to gather new information and skills to share with students and clients. Their positive feedback and improved results is what brings me joy. Do what you love. Love what you do. Seeing their smiling faces after sessions, hearing their reports of "feeling better," "more hopeful," learning of their positive changes, hearing their expressed gratitude …, makes my work Joyful.
Gratitude is a two-way street. Whether we give or receive, there is Gratitude.
Serendipity and the Gift of 3's. In 2019, I made three trips to Sedona Arizona to teach Reiki Ryōhō. Only the first class in April was planned. The second came in June, with a request to house and cat sit. November brought me back to Sedona, to hold another requested Reiki training where a retreat is inherently built-into the program. Sedona, a place so beautiful that just being there can fill your cup and nourish your soul.
Opportunity Creates Opportunity. This year, I gratefully had three occasions to spend time with my Teacher, Inamoto Hyakuten Sensei, a Buddhist monk from Kyoto Japan, Founder of Komyo ReikiDo™. Initially, only one class was planned; a Komyo Shinpiden (Teacher)Training, held June in Toronto Canada. I first met Sensei in Toronto in 2008. My initial training with Sensei began with a serendipitous meeting with a Reiki Teacher/Hypnotherapist from NYC, when we both attended a hypnosis conference in New Hampshire. Some years later, Mary invited me to join her for a Komyo Shinpiden workshop in Toronto. That experience in Canada would then in turn, lead to a trip to Japan in 2011, after the Tohōku earthquake and tsunami. At that time, Japanese people were especially grateful to see foreign visitors.
Since then, I continue to train with Sensei whenever the opportunity arrises. The opportunity has arisen 12 times. A second opportunity came this year after a woman who I had just met January in Cuba, offered me free lodging in NYC, allowing me the opportunity to attend a May workshop in NYC.  At each training, I meet wonderful people, which often leads to more opportunity, for which I am most grateful. My trainings with Sensei in NYC, the Catskills, Toronto and Japan continue to unfold, with more trips and trainings planned for 2020. Hyakuten Sensei turns 80 next year. April 2020, I am hosting Sensei for his '1st ever' Sedona Shinpiden (Teacher) Training; for him, "Sedona is a dream."
A third serendipitous, unplanned reunion with Sensei occurred this year on the Hawaiian island of Kauai, just before Thanksgiving. On Maui for the holiday with my husband's family, I learned of Sensei's visit to Kauai, and joined him there for the day. A story for another time.
"With gratitude comes opportunity." Some people might feel that opportunity brings happiness and gratitude. I believe it is the reverse. With gratitude, comes happiness, and with gratitude and happiness, comes opportunity. Then more gratitude and happiness, then more opportunity. If that has not been your experience, or if you wish to experience increased gratitude, consider coming in for a session. My work is about helping people increase self-awareness, self-care, and self-motivation to find their passion, and pursue their dreams, and find their joy.
"Go confidently in the direction of your dreams. — Henry David Thoreau
'Today Only.' Sometimes, especially if life feels overwhelming, it can help to break life down to 'today only.' Or, if need be, just this moment. Being more present in the moment is what Reiki Ryōhō, mindfulness, meditation, tai chi, Qi gong, and yoga have to teach us. All of these practices can help slow our thoughts, increase our sense of self-awareness, as well as awareness of others. With that, we often experience increased understanding, patience, tolerance, acceptance, of self an others, and a greater sense of gratitude. 
An important precept of the practice of Usui Reiki Ryōhō is known as Gasshō meiso; twice daily meditation or reflection upon the Reiki Principles, 'in Gasshō.' Gasshō indicates that the hands are at the level of the heart, palms pressed together; a symbol of respect and reverence, and in that, I would say also comes a sense of gratitude, for those we respect and revere. Principle #3, Kansha Shite, Thankfulness.
Keep a copy of the Reiki Precepts where you can see them, to be reminded. Other versions exist in print, but these are written in Japanese kanji on the memorial stone of USUI Mikao Sensei, Founder of Reiki Ryōhō, the Japanese Healing Method/Art, translated by Hyakuten Sensei.
Science tells us that 'gratitude improves our mental health.' Improved mental health, contributes to improved physical health. Self-care is important for balance, health and well being of mind-body-spirit. Gratitude is a 'self-care' tool that is free and easy to use daily.
Tips For Every Day Gratitude:
Keep a daily gratitude journal; find at least one thing each day to be grateful for.
Notice the beauty in nature each day.
Practice random acts of kindness each day.
Volunteer to help others.
Practice simple breathing relaxation.*
Practice mindfulness.*
Take time each day to meditate *or pray.
Write a thank you note, or simply tell someone you are grateful for, thank you.
Make a visual display (gratitude board) of what and who you are grateful for.
Collect positive quotes and sayings; display them where you can see them.
On 'Tips for Every Day Gratitude' – Keep it Simple. Focus on one or two from the list to begin. *Contact us for help with any or all of the above.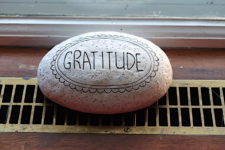 Recommended Readings on Gratitude: 
Psychology of Gratitude by Robert A. Emmons and Michael E. McCullough
Simple Abundance by Sarah Ban Breathnach. (along with the 'Gratitude Journal')
Tiny Buddha's Gratitude Journal: Questions, Prompts, and Coloring Pages for a Brighter, Happier Life by Lori Deschene
'Paying Gratitude Forward' Through Our Monthly Community Reiki Shares/Clinics. Offering affordable sessions of reiki in a group setting for relief of stress and pain, as well as a practice venue for our students, and respite for practitioners. This community service arm raises donations for charities and individuals in need. Over the past 19 years, we have donated locally and abroad, including but not limited to: Action Inc., Beverly Bootstraps,Cape Ann Animal Aid, Cape Ann Relay for Life, Cape Ann Wildlife, Beverly Bootstraps, Family Promise, the Grace Center, Lung Force and the American Lung Association, the Open Door, Reid's Ride, MA ALS, Toots Fore Tufts, Wellspring House, a charity in Nairobi Kenya, an HIV hospital in Kenya, and individuals undergoing treatment for cancer.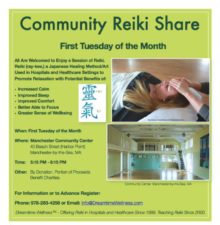 We are continuing our mission in 2020:  supporting organizations that promote peace and healingfor humans and their non-human companions. Contact us if you are a charitable organization interested in being a recipient of our donations. Join us for a reiki session. Chances are, you will be grateful you did!Attendees voice enjoying the warm welcome they receive, and the peace, comfort and calm they experience.
It takes a village. "Never doubt that a small group of thoughtful, committed citizens can change the world; indeed, it's the only thing that ever has." — Margaret Mead
Enjoy a Daily Attitude of Gratitude, a Beautiful Today, and a Happy, Healthy New Year! ~ Karen
Sources and More Information: 
Pang, D. & Ruch, W. The Mutual Support Model of Mindfulness and Character Strengths. 
Mindfulness(N Y). 2019; 10(8): 1545–1559.
Published online 2019 Feb 16.
doi: 10.1007/s12671-019-01103-z
Farb, N. A., Anderson, A. K., & Segal, Z. V. (2012). The mindful brain and emotion regulation in mood disorders. Canadian journal of psychiatry. Revue canadienne de psychiatrie, 57(2), 70–77. doi:10.1177/070674371205700203
Lambert, N. M., Fincham, F. D., Braithwaite, S. R., Graham, S. M., & Beach, S. R. H. (2009). Can prayer increase gratitude? Psychology of Religion and Spirituality, 1(3), 139–149. https://doi.org/10.1037/a0016731
The Science of Gratitude; a White Paper. Greater Good Science Center at UC Berkeley. May 2018
Karen Pischke BSN, RN, Alumnus CCRN, Author, Speaker, Nurse Researcher, Photographer. Certified Hypnotherapist, Tobacco Treatment Specialist, Usui Reiki Teacher/Komyo Shihan. Owner/Founder of Dreamtime Wellness LLC. Your Bridge to Health. Promoting Optimal Wellness for Mind, Body and Spirit. Karen is a registered nurse with a background in critical care nursing, cardiac rehabilitation, cardiac risk factor reduction, wellness and integrative healthcare. Incorporating a collaborative, integrative approach, Karen strives to educate, advocate for, and empower you in your healthcare goals. Providing evidence-based integrative healthcare services and self-care tools that are safe as well as effective at improving overall health, happiness and wellbeing. www.DreamtimeWellness.com. Find us on Instagram and Facebook
Disclaimer: This blog pro­vides gen­eral infor­ma­tion and dis­cus­sion about health and related sub­jects. The words and other con­tent pro­vided in this blog, and in any linked mate­ri­als, are not intended and should not be con­strued as med­ical advice. If the reader or any other per­son has a med­ical con­cern, he or she should con­sult with an appropriately licensed physi­cian or other health care worker. Never dis­re­gard pro­fes­sional med­ical advice or delay in seek­ing it because of some­thing you have read on this blog or in any linked materials. If you think you may have a med­ical emer­gency, call your doc­tor or 911 immediately. The views expressed on this blog and web­site have no rela­tion to those of any academic, hospital, practice or other insti­tu­tion with which the authors are affiliated.